Awards 2020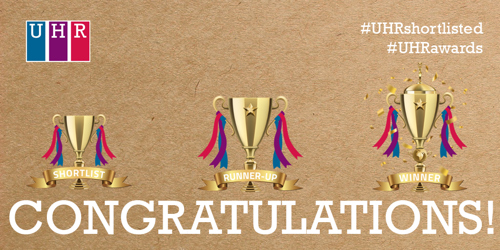 The UHR Awards 2020 are being awarded in the following four categories.
We'd like to thank everyone who entered the UHR Awards this year for a host of amazing and inspiring projects. It is part of our role to identify and share good practice in HR teams across HE and there is much to learn from all of our shortlisted teams. To our winners, congratulations, and to everyone who took part, our thanks and very best wishes.
The 2020 UHR Awards WINNERS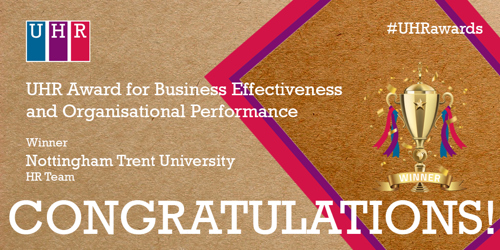 Category: Business Effectiveness and Organisational Performance
WINNERS: Nottingham Trent University
We have introduced a performance related pay progression structure for our lecturers and senior lecturers, aligned to clear developmental and performance milestones. Both frameworks allow for faster progression to the top of grade, and movement is dependent on achieving a 'good' performance rating. We are proud to have done this with the support and engagement of our academic community and UCU. Feedback tells us it is popular with both individuals and managers and is widely understood. Alongside the changes above, we have also fundamentally transformed our appraisal system to enable better differentiation in performance and we now consistently recognise all strong and exceptional performance with an annual bonus. We have championed and influenced change across the entire University and these practices have been embedded across policies, training and reporting ensuring that they are being consistently lived. Not everything has been universally popular, and to this end, we know that we are on a journey. We recognise that some areas are still finding quality appraisal conversations hard, however our focus and resolve that this is the right thing to do has been steadfast and throughout we have benefited from visible support from our most senior leaders. We believe our approach breaks the mould in the sector – introducing a true performance culture that is bold, distinctive and dynamic.
RUNNERS UP: Lancaster University
The Lancaster University (LU) Human Resources (HR) Team enhances the University's global vision by supporting the Strategic International Partnerships. LU aims to be a globally significant leader in Higher Education. The HR Team has been actively involved in the development planning and operationalisation of our 4 campuses in Ghana, China, Malaysia and Germany. This involves providing HR support in a variety of areas including resourcing, policy development, global mobility, immigration and payroll and tax.  
Shortlisted Nominee: Bristol University
The project aim was to improve gender equality at the University of Bristol, with a specific focus on two key objectives: 
To eliminate the gender pay gap (GPG) in the professoriate: +/-5% by 2020 and +/-3% by 2023 
To increase the % of female professors: 28% by 2020 and 33% by 2023 
18 months on, the project has successfully ensured that we are on track to meet or exceed these challenging targets. The resulting UCU Collective Agreement is also proving to be a model of good practice based on feedback from across the sector and positive news stories. It is also at a pivotal point in UCU/UCEA negotiations. The agreement and follow-on programme of work to tackle academic careers more generally will ensure that we address the broader systemic challenges that must also now be met if we are to fully eradicate the gender pay gap, achieve a gender-balanced professoriate, and foster gender equality more widely. We will continue to make the most of the four key ingredients that distinguish this project: having clear and unambiguous objectives, receiving support from senior management backed up by funding, sharing our data as widely as possible for critical evaluation, and working constructively and in partnership with others such as UCU colleagues to settle their formal GPG claim. 
Shortlisted Nominee: Edinburgh Napier University
Social networking is how people communicate more and more frequently in their private lives. The ability to foster a social and collaborative work environment through an enterprise social network is key to engagement in the workplace. Edinburgh Napier became the first UK university to launch Workplace by Facebook in May 2019. Workplace has built a community where it's easy to have multi-way conversations and interact and engage with people across all levels of the organisation – using a platform colleagues were already familiar with, meaning training wasn't required. Colleagues stay connected with what's going on at the University in real time. Workplace gives them a voice, allowing them to make meaningful contributions and adapt quickly to change through the opportunity to ask questions. They share successes, resolve issues faster, suggest ideas to make the University an even better place to work, and gain expertise – with support from colleagues they've never met, at every level, in any school, business unit or campus. Our people also use Workplace to see visible leadership providing a strong strategic narrative, especially about where we're headed – and what they should focus on to get us there. Workplace brings focus to what's important at the institution and allows everyone to participate in the conversation, making colleagues feel engaged and empowered within their working community and in tune with our strategy. Several universities have noted the success of Workplace at Edinburgh Napier and now want to launch the platform – asking us, as trailblazers, to support them in doing so. 
Shortlisted Nominee: University of Huddersfield
Our University has undertaken an innovative and transformational leadership and management development exercise, that has led to our institution being the first organisation (not just University) in the world where all its managers hold (or are on route to hold) Chartered Manager (CMgr) status. CMgr sets out the key behaviours we want to develop, and helps build a positive, healthy and productive working environment to sustain our long-term aims and objectives. We are seeing stronger, more inspiring leadership which ultimately means our people work more efficiently together. We believe our approach puts effective management and leadership at the heart of our University's commitment to delivering our new 2025 Strategy Map, and has helped embed the key behaviours which to we want to develop, and helps build a positive, healthy and productive working environment required to sustain our long-term University aims and objectives.  The initiative is something we are tremendously proud of and has significantly enhanced the leadership and management ability within our University.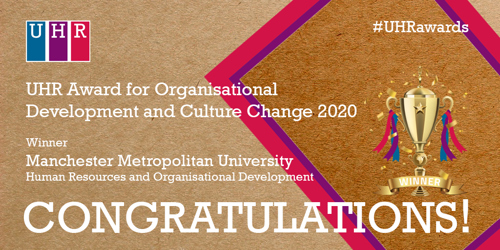 Category: Organisational Development and Culture Change
WINNERS: Manchester Metropolitan University
The HR and OD team at Manchester Metropolitan was instrumental in shaping and taking forward a new vision for Professional Services at the University under the brand 'One PS' (One Professional Services). HR led in shaping the behaviours and shared identity for 'One PS' whilst delivering a university-wide structural change programme. Throughout this work HR sought to 'walk the talk'; not only developing new ways of working for the University, but exemplifying these behaviours, connected with co-creation and collaboration in their own work and interactions. Utilising feedback from stakeholders and benchmarking in the Professional Services Quality Survey (PSQS), the HR&OD team improved customer experience and confidence in their service. Transformation work involved re-structuring and realigning HR&OD resources to support University priorities and customer focused service improvements. It also extended to collaborating with other services to implement and share best practice in the use of technology to manage and measure performance and introduce innovative ways of significantly streamlining processes through Robotics Process Automation. Further changes to complement this work included a new recruitment website, ATS, and recruitment collateral co-created with stakeholders. As well as short-term improvements, positive impact on customer service, reductions in volume of work and increased engagement from quality applicants, the University continues to reap longer-term benefits associated with this work. This includes a planned increase in its Professoriate, related improvements in performance against research measures and enhanced engagement across all Professional Services to work on strategic, collaborative projects. 
JOINT RUNNERS UP: University of Kent
In 2018/19 Kent undertook a suite of projects to respond to number of shared interests between the University and UCU, and which sought to resolve issues related to the employment of Hourly-Paid Lecturers (HPLs) and Graduate Teaching Assistants (GTAs); known as the Workforce Profiling Programme. Through the transfer of staff (where appropriate) to substantive academic contracts, or to newly-created teaching (professional practitioner) and teaching (academic cover) contracts (enabling schools to engage temporary lecturers and industry specialists more easily and appropriately), Kent reduced its reliance on HPLs by 66%. Contractual decision trees were created, enabling schools to more easily determine the most appropriate way to engage staff moving forward, and recruitment and authorisation processes were streamlined making 'direct hires' for fixed term roles easier. Where HPL contracts continue to be the most appropriate way to engage staff, clear guidance sets out where this is appropriate, and the multiplier rate payment method has been replaced with a new university-wide standardised payments menu; something both schools and UCU alike were keen to achieve. The programme also encompassed an existing project - Recognising Excellence in Academia. Initially focused on providing clearer career progression opportunities for teaching & scholarship staff, the project was brought into the programme of activity once it became clear it needed to expand to create a framework for all academic staff - which clearly lays out the expectations and opportunities at every career stage, regardless of contractual type; leading to the creation of Kent's Academic Career Map (the ACM). 
JOINT RUNNERS UP: University of Wolverhampton
Employee Engagement within the University was at an all-time low.  It consisted of the sending out of two staff surveys per annum and providing minimal feedback on results. In 2018 change was abundant – amongst other things, the Augar review was announced in February and the Office for Students commenced activity in April. The University recognised that the following years would bring a significant amount of change, and that the current methods of employee engagement were not supporting staff to respond effectively or perform well in this environment. A more holistic model of engagement was adopted – the "4 E's" (engaging, empowering, enabling and enhancing). This model was implemented to both raise engagement and drive cultural change. This entry charts the progress of the University in implementing this "4 E" model. It combines 'moonshots' (big ideas) with 'marginal gains' to provide not only the catalyst to spark cultural change and but also a plan to sustain momentum long term.  The plan aims at supporting employees to work effectively in an uncertain environment. The University is almost 2 years into this change.  A lot has been achieved and there is still more work to be done.  Change will not stop but the 4 E's are now part of "how we do things around here".  This "4E" model, combined with the iterative 'Plan, Do, Check, Act' cycle, is creating the flexibility required.  Change is visible not only in the data which sits within the entry but also in the behavioural change that is tangible. 
Shortlisted Nominee: Cranfield University
The Cranfield Values Project: the 'big conversation', was an innovative project to help Cranfield articulate a set of shared values. From the outset, the project team's key objective was to ensure that the University's values captured the authentic voice of Cranfield colleagues and that they were developed by everyone, not decided upon by senior management. This has subsequently increased ownership, engagement and uptake of what we value. We believe this level of buy-in, engagement and recognition is rare in our sector. The sheer breadth and depth of engagement in a short space of time and on a minimal budget has had a far-reaching impact – from prospective candidates citing our values during interviews to values-based conversations during P&DRs. Our people have really embraced the values – one way we have brought them to life is through a series of striking posters showcasing our community, what the values mean to them and how they are lived day-to-day. We are focused on using the values to create a positive culture, and highlight Cranfield at its best, rather than using values as a compliance tool. This was brave in the context of the HE sector, and a daring approach for Cranfield. 
Shortlisted Nominee: Durham University
Job Families, Career Pathways and online Personal Development Workbooks for Professional Services Staff have provided greater staff engagement, enhanced employee experience and organisation culture change at Durham University. The Job Family framework supported structural change programmes in PSS being used to develop a consistent PSS support model and career structure in each academic department, with increased opportunities for staff to move across departments / Faculties. The framework has created HR efficiencies by streamlining recruitment processes as PSS roles now have generic profiles which has reduced time involved for recruiters as there is no longer a need to create a new job description for every vacancy. There are also efficiencies within HR as grades are based on generic HERA role profiles and no longer require a detailed role evaluation. The establishment of Job Families and development of Career Pathways is a well-structured approach to the career development of PSS which brings clarity and transparency to PSS roles by linking roles, skills and behaviours with careers. It has provided a way of addressing staff needs and allowing transparent access to information for staff so they are encouraged to be responsible for their own learning and to take ownership of their career development. It has also increased flexibility and broken down the "silo" mentality that existed in some departments, with staff learning from each other and working across departments and Faculties in "Communities of Practice". 
Shortlisted Nominee: Edge Hill University
Our 'Wellbeing for All' programme is a whole University approach to improving mental health and resilience at Edge Hill with Student Services, HR, Edge Hill Sport, Student Experience, Student Union and a strong representation of academic colleagues working collaboratively to impact positively on key student and workforce performance indicators, such as student satisfaction, retention, employee attendance and productivity.  
Shortlisted Nominee: University of Glasgow
Team Science Research Careers 
Academia is rooted in a tradition of individual and small team research where the emphasis is on leadership and independence – but what about the increased use of complex teams where there are multiple strands of science interacting? The University of Glasgow has broadened its career pathways to promote team science and support flexible career options. New career pathways have been published and many staff have transferred and been promoted through these routes. This work has engaged with key current challenges recognised across the UK and international research community. Glasgow has shared its experience with many other universities, key funders and sector bodies to inform wider development of the concepts. Dissemination has included presentations at national conferences, engagement with key funders and collaborative visits. These efforts are part of a values-based University strategy which puts people at the heart of Glasgow's world changing vision and culture. Team science culture has been further signalled through the University's embedding of collegiality and open research values into its academic promotion criteria. Building on this work, Glasgow seeks to work with the sector to further champion and develop innovative research and scientific career pathways. Our wider efforts will support the team science ethos across our academic communities. 
Shortlisted Nominee: London South Bank University
The 'Shape Our Future' initiative saw LSBU Group's 2020-25 strategy taken away from the strategists and given into the hands of staff. Through relatable multi-channel communications we gave people a platform to take part, continue the conversation, stay informed and hold to account. Our strategy sessions made our "every day amazing staff" the face and heart of the project, showcasing their talents, building authenticity and ultimately improving the project's output. Shape Our Future gave staff genuine ownership to shape the direction of the Group by allowing them space and freedom to dream big, connect with each other and challenge the direction of travel. While these initial stages were important and innovative, Shape Our Future's success relied on an open leadership keen to take the findings on board and visibly embed them into the Strategy. Shape Our Future's legacy is a strategy that changed and grew from the outputs of hundreds of staff from across the Group, so that it truly became a Strategy by the Group and not just a strategy for the Group. 
Shortlisted Nominee: Sheffield Hallam University
This submission articulates the plan for driving organisation development and transformational change across Sheffield Hallam University. With the advent of a new Vice-Chancellor in 2016 and the subsequent new appointments made, an ambitious strategy was designed: "Transforming Lives". The implementation plan comprises 4 pillars and outlines the required achievements over the next few years. As part of the "Building a Great University" pillar and our priority to create an outstanding environment in which to study, research and work, we committed to developing the "Hallam Deal" (the people plan) which consists of 5 sections: Where you work; Working together; The job you do; How you get rewarded; The opportunity. The remit of the plan is extensive, however it is the underpinning of the change in approach to organisation development that is the focus.
Category: Equality, Diversity and Inclusion
WINNER: University of Bristol
Personal stories are a simple yet powerful way to engage staff in appreciating the value of difference and to create empathy to bring to life our vision of a truly inclusive workplace where staff can be their true authentic selves. 'TheirStories' uses storytelling as a vehicle for building workplace inclusion, improving employee engagement, challenging bias and developing a culture of belonging. Individuals from across the organisation are invited to share their personal stories to whatever degree they feel comfortable. This is helping to change our culture as staff connect with each other as individuals and as human beings, learning from and being inspired by the authentic life experiences of a diverse range of speakers. TheirStories requires our speakers – and in particular our senior leaders – to be vulnerable. There has been a great deal of research around what leaders gain by being vulnerable which in this context does not mean being weak or submissive. Rather, it means having the courage to be yourself, engaging with staff on a human level, building trust and engagement through authenticity. TheirStories is also an effective tool for training staff. Learning from the lived experiences of those from marginalised groups galvanises people to work harder to ensure that our workplace is welcoming and inclusive: a place where we can all belong.
JOINT RUNNERS UP: Northumbria University
At the heart of Northumbria University's Strategy 2018 – 2023 is a recognition that our people play a crucial role in enabling the University to achieve its ambitions, as set out in our Strategic Objective 'Exceptional people empowered to achieve shared ambitions'. The HR Team has developed several work streams within the HR Delivery Plan to help the University's senior leaders and managers to create and promote a visibly inclusive environment. The Vice-Chancellor's Diversity and Inclusion Scheme was one of many initiatives. It focuses on accelerating EDI momentum across the University by encouraging colleagues to be proactive and consider how they can make a difference, and then empowering them to do so with projects that interest them. It also fostered opportunities for colleagues to collaborate. All projects have individually and collectively contributed to creating an inclusive environment. It has increased the awareness and importance of EDI across the University and, more importantly, has created an interest and excitement by all involved in what is possible with some imagination, motivation, financial support and trust to deliver fantastic projects. 
JOINT RUNNERS UP: Teesside University
Team Teesside - LGBT+ Inclusion
Teesside University has taken a proactive approach to ensuring that LGBT+ staff and students feel supported and engaged as part of Team Teesside. HR and the LGBT focus group have worked in collaboration to deliver, an ongoing programme of events, ally scheme and changes to policy and practice in addition to one off activities that enhance LGBT+ inclusion across the University. Local partnerships have been established with organisations such as the police, NHS, colleges, football club and charities, to share best practice and enhance the learning and development offer. Key policy changes have included the use of gender neutral language throughout. At a senior level the commitment to LGBT+ inclusion is evident in the hands-on approach taken by the University's LGBT executive champion, Juliet Amos. The combined, collaborative work at institutional level to embracing diversity and LGBT+ inclusion has led to greater awareness and acceptance of lesbian, gay, trans and non-binary staff and students at the University. The impact of the work is evident in the inclusive culture, and in numbers of staff willing to declare their sexual orientation at recruitment and whilst in employment, in addition to the external recognition through consistent upward progress in the Stonewall Workplace Equality Index. 
Shortlisted Nominee: University of Bradford
The University of Bradford has produced a comprehensive initiative to support employees and line managers with managing the menopause and hormonal changes in the workplace. This initiative includes information sessions and documentation to support workplace discussion, as well as supporting women to help manage their symptoms including preparing for discussions with their GPs. We have tailored our approach to be culturally sensitive and inclusive. 
Shortlisted Nominee: University of Brighton
In 2019 the University placed 72nd in the Stonewall Top 100 for our commitment to LGBT+ equality. We are incredibly proud to be part of Stonewall's Top 100 Employers and to be recognised for our progress advancing LGBT+ equality. We are dedicated to nurturing a diverse community, including being a university of choice for LGBT+ staff and students and honouring the vibrant LGBT+ community within our region. This is the first time that the university has featured in the list and comes on the back of a programme of initiatives at the institution which has seen us increase 124 places from our last submission in 2017. This achievement was a recognition of our on-going commitment to LGBT+ equality, including extensive research and community engagement activities in this area, an active and impactful LGBT+ Staff Network Group and a systematic approach to this programme of work that has been put in place since our last submission. 
Shortlisted Nominee: University of Glasgow
The University of Glasgow has been on a gender equality journey since 2013. The Public Sector Equality Duty, and the overall University strategy at that point, gave the organisation the launch pad to fully define and embed our gender equality priorities. Over the past six years the University has seen significant progress in relation to a wide range of areas, having a tangible, positive impact on both our staff and students. We have developed and delivered a range of ongoing activities to support gender equality, including our Early Career Development Programme (ECDP) to support early career academics  progress through the promotion system, Academic Returners Research Support, efforts to achieve a leadership gender balance and our participation in the Athena SWAN awards. We are also carrying through our gender work into our policy development space, having recently launched a new Carer Support Policy and re-launching our Flexible Working Policy, helping support staff – particularly women – in enabling them to develop and deliver in the work environment while undertaking commitments outside of work, and achieving a more positive work/life balance. 
Shortlisted Nominee: Solent University
In 2017 we completed our first gender pay gap which was a median of 13.7%. Since then we have introduced initiatives to improve our Gender Pay Gap position. This has seen the median pay gap reducing to 12.3 in 2018 and 11.1 in 2019. We pride ourselves on the People Experience and equality and diversity is an important part of this and is supported by the Equality and Wellbeing Committee which is a joint committee for staff and students. We aspire to become an employer of choice and reducing the gender pay gap is an important part of this and has been addressed number of improvements as follows: 
Promotion of Solent Values and Leadership Behaviours
Changes to our recruitment practices
Introduction of Career Pathways
Work to establish an employer brand and positive role models
Introduction of a Women Achievers Network.
We are proud that these initiatives have reduced our gender pay gap. These initiatives have had other positive benefits on the organisation as in a similar period we have had an increase in employee engagement scores 57% in 2015, rising to 59% in 2016 and 62% in 2018. This is against a backdrop of change within Higher Education and shows that the impact is wider than just an improved gender pay gap and has an impact on the whole organisation.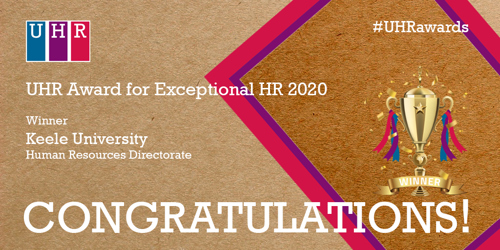 Category: Exceptional HR - our 'Team of the Year' category
WINNERS: Keele University
The transformation of Keele University's Human Resources directorate, over a period of two years, from January 2018, has seen the team develop into a truly strategically aligned and progressive team who have made an immediate and sustained impact on the institution's business effectiveness and organisational performance. With a dual focus on operational excellence and strategic delivery, adopting a "better and bolder" approach to service delivery, the team have demonstrated excellence across a range of objectives including reduction of recurrent pay costs, advancement of the EDI agenda and improvements to the staff experience through a new and exciting approaches to staff engagements. Key learnings emerging from this transformation can be summarised as: 
The importance of a shared vision 
The power of the team  
The incredible results that can be achieved by people when they are supported to raise their aspirations    
This transformation and the achievements that have been delivered as a result should be considered in Keele's particular context: we are a relatively small team of HR generalists who have, in the recent past, had a low profile in the institution and the sector. The tremendous progress we have made may be dwarfed by larger teams in more successful institutions as measured by financial performance, but we believe we have made great strides, and this viewed is shared by many in our institution.   
RUNNERS UP: Staffordshire University
Staffordshire University recognises that people are key to its success. The direction of travel that the HR&OD team have taken has had a transformative influence on the leaders and managers. One major development has been the introduction of talent identification and mapping to help inform workforce development at a strategic level. This tool and the development work that followed is having real and tangible benefits including a change in the behaviours of their leaders and how they approach succession planning and identifying development opportunities. A change to the way their engagement survey results are disseminated has led to more meaningful information from staff, as well as ensuring that staff have been listened to by senior managers. This rich data will also inform their Cultural Improvement Programme commencing in 2020. The real focus to this team's success is their ability to provide an all-encompassing view of their workforce made up of the softer elements such as development and talent, as well as the hard data provided through effective data capture and real-time reporting. All of this is aligned with the University's strategic direction, ensuring that the work of the HR&OD team has a direct impact on the University strategy and ultimately, its success. 
Shortlisted Nominee: University of Lincoln
The University of Lincoln HR Team have worked collaboratively over the last 12 months to deliver a number of key projects that have aligned to the strategic aims and embodies the "Dynamic engaged people" strategy. The pieces of work have required the team to work together to ensure that the combination of skill sets allowed for successful change management. Areas to highlight have included supporting the long term financial planning of the University by transitioning new members of staff to a defined contribution pension arrangement whilst ensuring that financial education and relevant alternative saving vehicles are launched to ensure they are able to make informed decisions going forward. In addition, the team have designed and launched "Linc-On" as a one stop innovative desktop tool that incorporates all aspects of the reward, recognition and engagement offering to ensure that the employees have constant engagement with the employee offering. Finally, the attraction and recruitment of multiple Global Professors to Lincoln will shape the agenda for both the new Medical School and research relevant to Lincolnshire going forward. The achievements demonstrate a forward-thinking HR team working collaboratively with a clear vision of supporting the organisation with achieving goals and ambitions. 
Shortlisted Nominee: Loughborough University
Loughborough University has developed an exciting People Strategy that aligns with the University's Strategy of 'Building Excellence' and is representative of the ambitions of a top 10 university. The Senior Management Team (SMT) of Human Resources and Organisational Development led a highly collaborative design process which resulted in the People Strategy being approved by the University's Senate and Council in March 2019. Since then the SMT have delivered many initiatives across the five priorities within the People Strategy aimed at enabling all colleagues to be the best version of their professional selves, working with flexibility in an agile organisation that is an employer of choice. At the heart of the People Strategy is inclusion and a culture which enables all colleagues to be successful and have equitable access to opportunity. Loughborough is on a journey that has put people central to its continued position as a top 10 university. 
Shortlisted Nominee: Northumbria University
Our University has an ambitious Vision and Strategy. We are a challenger University, transforming to #Take on Tomorrow. The HR team is proactive in recruiting and retaining the best talent, developing future leaders, supporting and driving performance, encouraging an inclusive environment with diversity as the norm and where colleagues feel valued and motivated to perform their best. We do all this while we streamline our Service focusing on the resources we have (not those we'd like or we used to have!)