CUPA Bursary
We are so pleased to announce that the winner of the 2023 UHR/CUPA Bursary is Janine Chalmers, Head of Organisational Development at the University of Aberdeen.
Janine will join other UHR delegates Naina Patel (UHR Chair and Chief People Officer at the University of the Arts, London) and Sophie Crouchman (UHR Strategic Projects and Research Manager) in attending the 2023 CUPA Conference in New Orleans from 1-3 October. UHR is very happy to be partnering once more with our US counterpart organisation, and we were able to host sessions delivered by US delegates at our recent UHR conference. After the short interruption during the pandemic we are very happy to be sending delegates to the CUPA Conference in the US once more.
The UHR/CUPA Bursary also funds a short study trip to one or more US universities. Janine is finalising plans right now and we'll shortly be able to discuss them in more detail with UHR members. She will be discussing interlinked themes with her US counterparts and aiming to bring insights back to the UK to share with colleagues at Aberdeen, within her Scottish professional networks and of course to the wider UK/UHR community too. Those themes include how best to undertake wide scale organisational learning needs assessments; and how to encourage attendance in development programmes from all parts of the staff community. There is a definite EDI/race equality aspect to this second question. The University's Organisational Development Team plays a key role in delivering the commitments in Aberdeen 2040, the University's strategic plan. Access to learning opportunities is an example of this - do all groups in the University take up development opportunities on a fair basis, or is there under-representation? If so, why, and what can be done? Are the initiatives the team drives forward  impactful at a cultural and individual level? What does the senior team need from L&D? How does the work of Janine's team feed into succession planning, and how can the team further support the University to achieve its ambitions?
On hearing of her bursary win, Janine Chalmers said: "I was thrilled and grateful to be awarded the bursary – this will be an important opportunity for the University of Aberdeen and myself and I have started to prepare to maximise my learning and experience at the conference. The opportunity to network with HR colleagues on this scale and understand perspectives from across the world will be fascinating and hugely valuable.
Debbie Dyker, Director of People at Aberdeen said : "I am delighted that Janine has been awarded the bursary and am looking forward to working with her to discuss how we can make the most of this great opportunity."
Speaking on behalf of the UHR judges for the bursary award, UHR Executive Director Helen Scott said: "I'd like to congratulate Janine on her fantastic nomination paper, and her bursary win. Based on bursary recipients' experiences in previous years, I'm confident that Janine and Aberdeen will really benefit and so will UHR. The career chance to gather new insight from our American counterparts in this way is a rare one. We look forward to hearing more about Janine's experience and to her sharing those new insights across the UHR membership."
What is the opportunity?
CUPA-HR is the equivalent of UHR in the USA, and for many years, there has been reciprocal attendance at our conferences between the two organisations. Covid got in the way! But in 2023 we are very pleased to be able to reinstate a process that brought real benefit to earlier participants, and the winner of this year's Bursary will be announced at the UHR Senior HR Summit on 9 June 2023.

Please continue reading to learn more about the UHR - CUPA Bursary opportunity, whilst noting that a decision has already been taken on the winner of the bursary for 2023. Perhaps you would like to consider applying in 2024? If so, the information below will be of use.

Find out about previous winners
CUPA-HR Annual Conference 1 - 3 October 2023 - New Orleans
This conference provides the opportunity to connect with HE HR professionals from the USA, and other areas, with over 1000 delegates and a large sponsors' exhibition. The format of the conference is similar to the UHR conference, with a mix of plenaries, workshops and other social and networking opportunities.
A short study visit to an HR department in a US university
Applicants for the UHR bursary should also identify one or more US universities, possibly in New Orleans or the surrounding area, to which they would arrange a short study visit to take place just before or after the conference. This might be to understand the university's approach to HR, or its handling of particular topics of mutual interest; or, where it has a reputation for good practice, the chance to see this at a detailed level; alternatively, the HEI may already have a link with the applicant's own organisation, which could be enhanced; or it could be a contrasting type, such as a 'for-profit', or a two-year degree provider.
Rhona Bain of Edinburgh Napier University and 2019 winner of the bursary, said: "The CUPA Conference and EXPO experience was incredible and together with the opportunity to visit and meet counterparts in other universities, who are facing the same challenges, was a career high for me. I would urge anyone considering applying to go for it!"
Who can apply?
Please read our further information for eligibility criteria and full information on this fantastic one-off career development opportunity. Use this link to download a copy of the application form.

PLEASE NOTE THAT THE DEADLINE FOR APPLICATIONS IS NOW OVER. THE WINNER OF THE 2023 BURSARY WILL BE ANNOUNCED AT THE UHR SENIOR HR SUMMIT ON 9 JUNE.

Previous winners

UHR / CUPA Bursary 2020 winner
Alison Stephenson, Deputy HR Director at the University of Sunderland
This is the fourth year in which UHR has teamed up with our friends and partners in CUPA-HR, our US equivalent body, which supports HR professionals at American universities, to offer a guest place at the CUPA Conference and a funded study tour of US universities. We're keen to learn from new approaches and international perspectives, and this funded learning experience allows a UK HE HR specialist to learn from US counterparts and then come back to the UK to share those learnings via their own personal and UHR networks. The 2020 CUPA Conference is scheduled to be held in Orlando, Florida in October 2020.
Alison Stephenson's study project is an interesting take on the equalities agenda and takes the theme of 'Managing Multi-generational Workforces'.
"This idea rings a real bell for me, and it's been a focus of personal reading and study for a while," Alison said. "We are used to thinking in terms of protected characteristics. However we need to think more about how we get the best from all the generations that are in our workforce, and we don't always do that. As our employees are working beyond the original retirement ages, the age-width of our workforce is broader than ever.  There are different expectations about working life as we move across the different generations, about how and where we work, about our expectations of reward packages, employee engagement, motivation, management styles and lifestyle expectations – but the sheer variety of human personality can sometimes get hidden beneath some typical stereotyping, around things like resistance to change, or ability to manage or engage with technology. I consider multi generation workforce as part of our diversity planning. The chance to visit and discuss with US colleagues is a fantastic one, and I'll be lining up meetings with the universities of Miami and Central Florida to learn about their strategies on multi generation workforce."
Prior to applying for this year's bursary Alison had spoken with past bursary winners including Sophie Harris (QMUL, 2017) and Rhona Bain (Edinburgh Napier, 2019) and was keen to acknowledge their support. "It was clear that for both Sophie and Rhona the bursary opportunity was amazing for them, both personally and professionally. It would have been so wrong to pull back from this chance once I had a clear picture of what it involved," she said.
With Covid-19 an ever-present consideration, and the implications of international travel planning far from clear, there remains some possibility that this year's study tour will have to be conducted digitally, though at the time of publishing this information it is still CUPA's intention to go ahead with the Orlando Conference in October. If Alison is unable to travel she has a well-developed fall-back position to enable to her to meet US contacts digitally, and of course we'll keep UHR readers posted.
We'll share news of Alison's planning and projects over the coming months. In these turbulent days we'll be sharing information about our 2021 plans just as soon as we are able to.
UHR / CUPA Bursary 2019 winner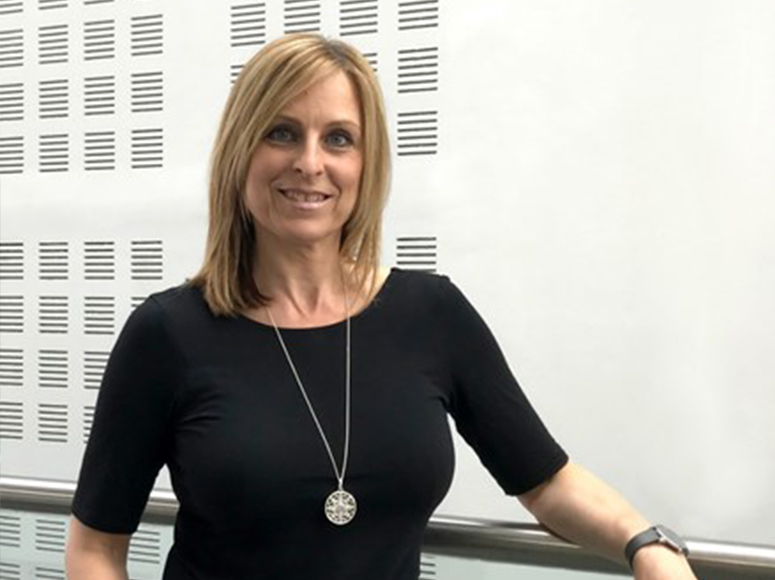 Rhona Bain
HR Diversity and Inclusion Partner, Edinburgh Napier University
We're delighted to announce that Rhona Bain, HR Diversity and Inclusion Partner at Edinburgh Napier University, has been awarded the UHR / CUPA Bursary for 2019.
The Bursary scheme is now in its third year. Our friends and partners CUPA-HR are our equivalent organisation in the United States and represent more than 25000 American higher education HR specialists. The Bursary enables a visit to the annual CUPA-HR Conference - this year being held in Denver, Colorado – as well as a study tour of one or more American universities. Building reciprocal links with our colleagues in the US allows for learning, and shared development of ideas, policies and behaviours.
Rhona's study project will take her to Colorado State University and will include meetings with two leading academics working in the area of sexual violence. The focus for the study trip will be to look at their strategy to tackle sexual violence, harassment and misconduct in the university community, the policies and practices they have developed and how a zero-tolerance culture to gender-based violence is being embedded. Crucially, Rhona will consider how Colorado have successfully built their communication campaign around this aspect of culture change. This will better inform the approach Edinburgh Napier takes as it sets out to develop new HR policy and practice, as well as the planned victim support framework for staff and students.
"As a trained Sexual Violence and Misconduct Liaison Officer I know that issues of violence and harassment on campus have to be handled sensitively," Rhona said. "Some US universities – and Colorado is one of them – are clearly ahead of us in thinking about this. It's really exciting to be given the chance to go out and learn from those with good strategies, and to come back and share within the Scottish and UK contexts. It's an opportunity to explore and seek out people who are doing it well."
Rhona Bain, CUPA Bursary 2019 winner
The previous winners of the Bursary are Sophie Harris (formerly of SOAS and now Assistant Director of HR (Organisational Effectiveness) at Queen Mary University of London) and Rashmi Patel (Head of HR Operations at Nottingham Trent University). Both came back to the UK brimming with energy and ideas to improve their own professional practice, their teams and departments, and via the UHR network and elsewhere, to share their learnings. We're sure Rhona will do exactly the same.
For Rhona, the entire piece of work around diversity and inclusion is huge and multi-faceted. She shares an interest with Sophie Harris, whose study project was on the theme of supporting better female academic progression. Rhona will be looking at ways in which her US academic hosts support more women into STEM subjects, and how they work to eliminate bottle-necks that stop female progression.
UHR / CUPA Bursary 2018 winner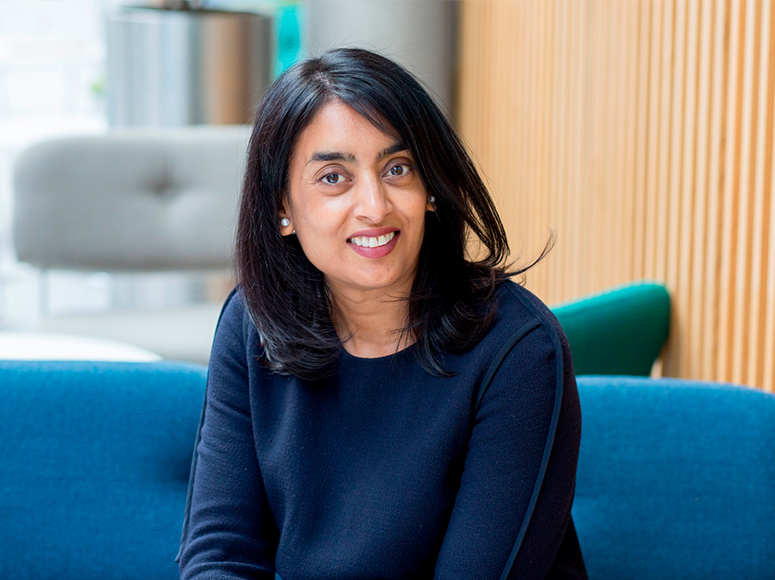 Rashmi Patel
Head of HR Operations, Nottingham Trent University
We are delighted to announce that the winner of the 2018 UHR – CUPA Bursary is Rashmi Patel of Nottingham Trent University. The Bursary is now in its second year. It enables the recipient to undertake a combined CUPA-HR Conference visit (this year to be held in Indianapolis) and study tour of US universities.
Rashmi's role at Nottingham Trent
Rashmi Patel is Head of HR Operations at Nottingham Trent University (NTU) where she   provides strategic leadership and management of all operational HR services and continuous improvement projects across four multi-disciplinary campuses at NTU.  As a senior adviser to the University Executive Team and University Leadership Team on all employment and policy matters, Rashmi works to promote cultural change, inclusion, collaborative working and employee engagement across the University. She also actively leads on a wide-range of projects and initiatives aligned to the NTU strategy of "Creating the University of the Future."
Building inclusivity: Study visit plans
"I'm passionate about education and our collective capacity to transform lives and shape the future," Rashmi said. "My study visit will be based on the theme of 'Building Inclusivity'. I see the CUPA Conference and Study visit as a unique opportunity to help raise awareness and intelligence of common global issues, something that is of huge value not just to me and NTU but also to a great many HEIs in the UK and in the USA too. Increasing diversity in our workforce is paramount for the future, and not just in terms of gender. I want to see how institutions can actively widen participation and increase social mobility to create truly diverse and inclusive institutions. How can we really nurture such an environment? How can we actively support that kind of environment by attracting, retaining and fully utilising the potential of under-represented BAME groups in higher education at all levels? How do we build workforces that are more representative of our student bodies? What are our partners in the US doing in this area that we can learn from in the UK?"
Rashmi will attend a minimum of three US HE providers and has already fostered working links to institutions including the Universities of Chicago and Detroit. Both institutions draw from a hugely diverse student base in vast metropolitan areas but reach out across the country and internationally too. Chicago proudly assert that they actively hire people with a wide-range of diverse viewpoints and backgrounds, races, abilities, gender, sexual orientation, military status and more – they believe such diversity enriches the community and the learning within it. Detroit believes the diversity of its student body, with many international students, adds a valuable dimension of cultural interchange to university life. What is the reality? Rashmi Patel will set out to see progressing diversity and inclusion in practice on her study visits.
"There is still a significant lack of diversity in organisations across all sectors. Addressing diversity and inclusion is a societal issue, a moral issue, and a business issue for us all. Around 14% of the UK working age population comes from a black, Asian or minority ethnic (BAME) background and by 2030 it is expected that the proportion will be closer to 20% (CIPD 2017). Without action to develop inclusive workplace cultures, where people with a diverse range of identities feel able to perform at their best and progress in their organisations, we face an under-utilisation of talent.
"As a senior leader in the HR profession and Chartered Fellow of the CIPD I hope I can play a role in helping progress this change," Rashmi said.
Sharing the learnings
It is a vital part of the rationale behind the UHR - CUPA Bursary that the recipient should be able to share learnings from the visit as widely as possible with colleagues back in the UK.  UHR facilitates this through its communications, conferences, seminars etc. Rashmi's proposal outlined numerous ways in which she will be able to pass on the learnings from the trip and UHR looks forward to helping her do just that.
Selectors
This year the UHR – CUPA Bursary selectors were the UHR Chair (Sandra Heidinger, HR Director, Strathclyde), both Vice-Chairs (Paul Boustead, HR Director, Lancaster and Dean Morley, HR Director, Royal College of Art), and a UHR Group Chair (Joanne Marshall, HR Director at Bradford, UHR NE).
On behalf of UHR, our Chair Sandra Heidinger of the University of Strathclyde notes that the topic for study is, as in 2017, about equality and diversity. The 2017 winner was Sophie Harris of SOAS. "Rashmi Patel's proposal follows and builds on Sophie Harris's work, but the topic is such a huge one for the sector and Rashmi is planning to approach it from a completely different angle. While Sophie considered academic progression, Rashmi will widen the theme to other staff and student groups, and beyond gender. Rashmi Patel was the unanimous and clear first choice of the selectors. We saw this as a great proposal, including a clear plan for achievable learning around the visit, and a specific and effective dissemination plan for sharing the learning."
UHR / CUPA Bursary 2017 winner
Sophie Harris, Deputy Director of Human Resources at the School of Oriental and African Studies (SOAS), University of London
In April 2017, Sophie Harris, Deputy Director of Human Resources at the School of Oriental and African Studies (SOAS), University of London became the first person to be awarded the UHR-CUPA bursary to attend the CUPA-HR conference in California, USA.
As part of the bursary, Sophie took the opportunity to arrange a CPD study visits to local universities. She was able to speak with staff from University of Massachusetts, Amherst, Rutgers State University of New Jersey Michigan State University and University of San Diego about how gender affects academic progression.
You can read her blog posts relating to her trip on the UHR blog: