The university HR topic being talked about more than any other in 2023 is diversity. Providers are trying to answer big, impactful strategic questions such as:
How can we better understand the diversity profile of our staff?
How can we secure our future talent pipeline by planning properly for the future?
How can we benchmark our diversity metrics against our comparators so we know how we're performing in the wider sector?
How can we set and monitor appropriate diversity targets in a transparent, objective way?
This is where Jisc's new Discover diversity comes in! A brand new suite of interactive dashboards helping you to understand your own staff diversity demographics and intersectionality in detail as well as allowing fast and easy benchmarking.
Developed with input from both UHR and a range of higher education institutions using trusted HESA data, the dashboard suite is packed full of data and insight to help UHR members understand and address some of your biggest diversity challenges. Use tangible evidence to inform your equality, diversity and inclusion strategies and plan a bright, inclusive future for your university.
Five year diversity trends
Discover diversity includes five years of diversity data for each university including vital demographics such as Ethnicity, Sex, Age and Disability. The trends are accompanied by a vast range of filters so you can measure exactly what you want. The visual nature of the dashboards mean that you can quickly identify trends as well as your university's strategic strengths and weaknesses.
Being able to understand your staff demographics in detail and see how they've changed over time can help you target your strategic interventions and measure their success across your provider. An example set of metrics can be seen in the dashboard below which uses synthetic data.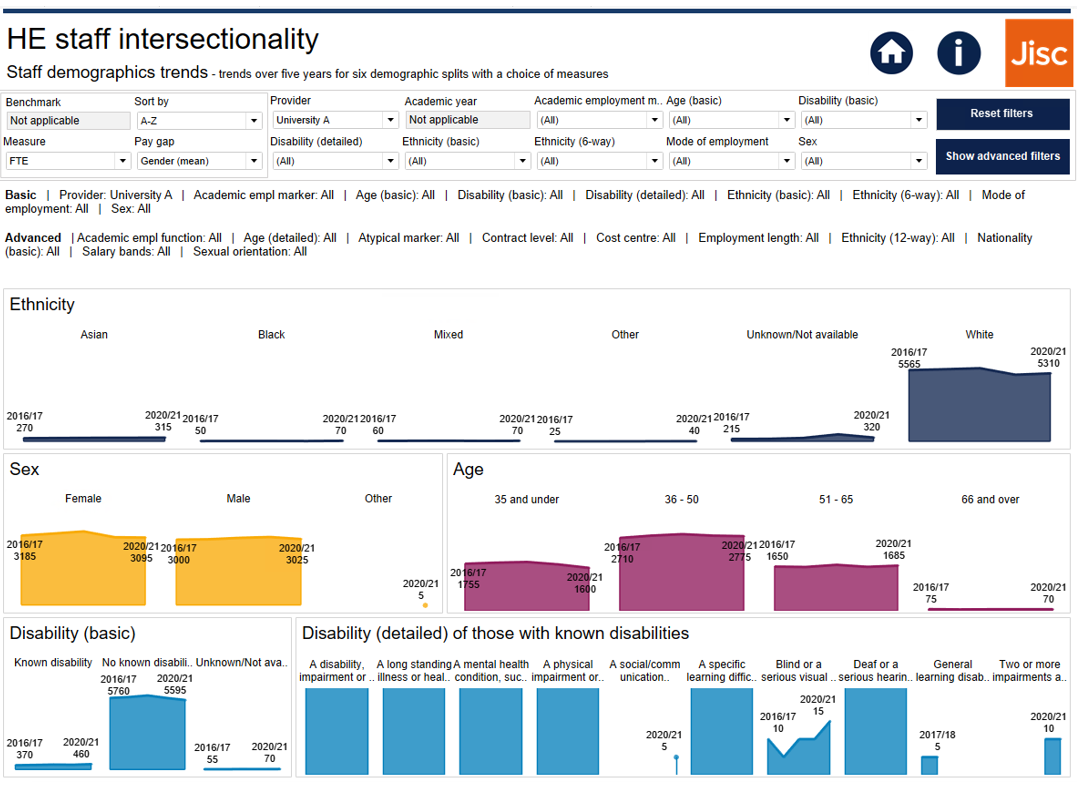 Above: An example staff demographics trends dashboard from Discovery diversity.
Set your own, adjustable diversity targets with forecasts
Every university HR team will be aware of their staff diversity targets and supporting strategic aims. Discover diversity includes the option to set your own adjustable targets within the dashboards and see them represented visually with forecasted data to see if you are on track to meet them.
Take the example below which uses synthetic data. University A has set a gender pay gap target of 0% by 2025, and while their pay gap is forecasted to reduce, it's still predicted to be around 10% after that time period. The dashboard instantly shows that more needs to be done to meet that pay gap target and the university can begin to adjust course accordingly.
The forecasts enable you to be proactive in identifying areas of your workforce diversity that need improvement and also monitoring areas of strength to ensure you continue to thrive. This will help you plan for the future effectively, securing your pipeline of diverse talent and supporting inclusive practice across your organisation.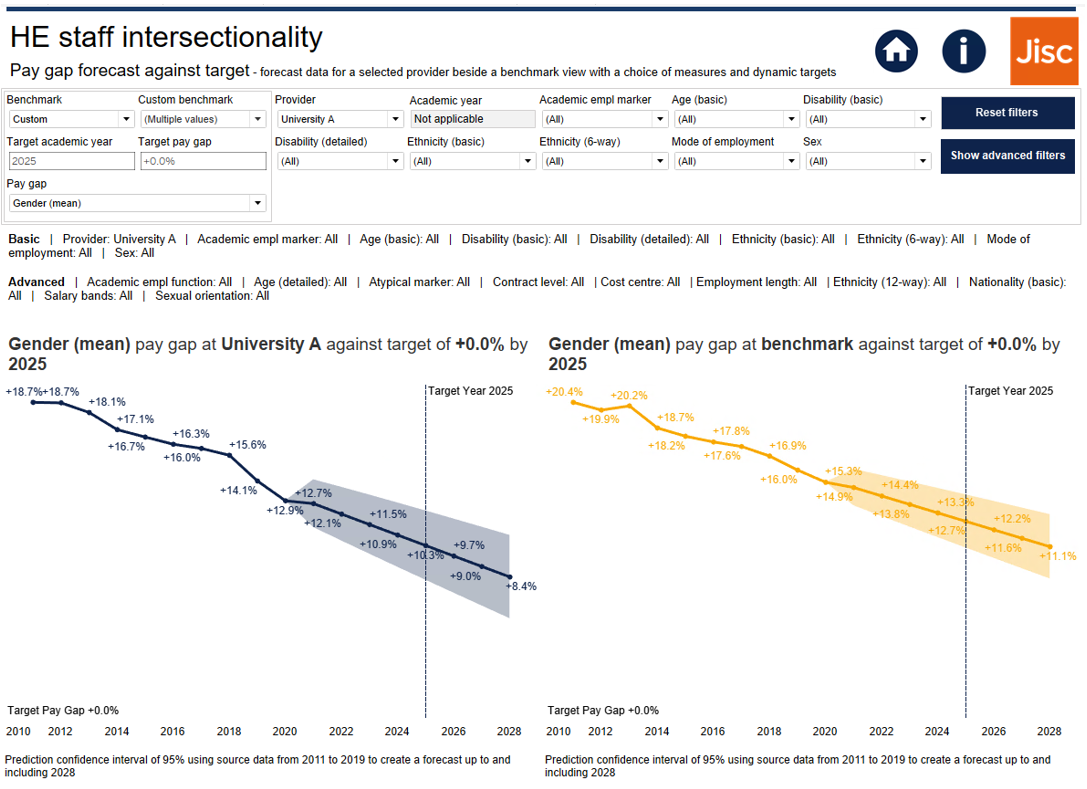 Above: An example pay gap forecast against target dashboard from Discovery diversity.
Create custom benchmark groups
When it comes to measuring university performance, some comparisons are more relevant than others. Universities often benchmark by region, league table placing, subject, as well as mission group, but each will also have other ways which are most meaningful for them. Discover diversity has been designed so that you have full control of how you benchmark your provider by allowing you to create custom benchmark groups to compare your diversity metrics. This allows you to measure your performance in a way that suits you best, with the flexibility to update your groups as you develop your diversity & inclusion strategies. You can see an example below which uses synthetic data.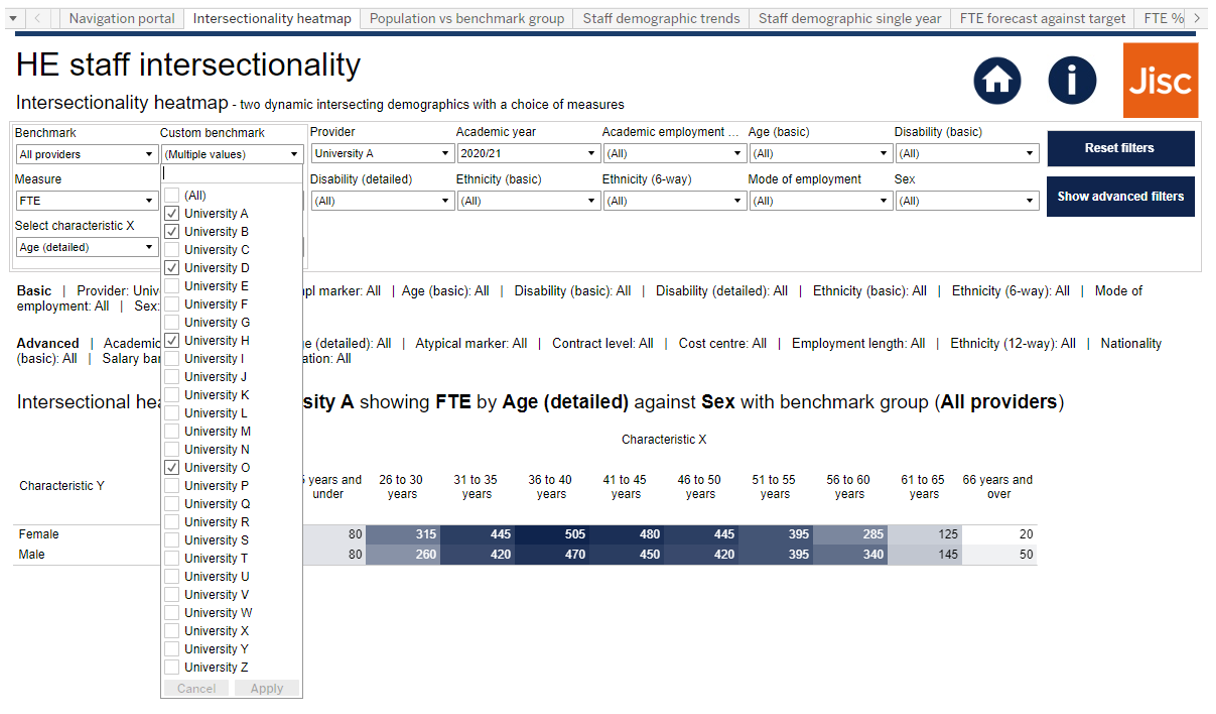 Above: An example intersectionality heatmap dashboard from Discovery diversity.
Working collaboratively with the HE sector to add value
Jisc and UHR have worked collaboratively with universities to ensure that we are helping them answer their most important staff diversity and inclusion questions. This is explained in more detail below by Sophie Crouchman from UHR:
"UHR worked closely with JISC, and a number of HEIs, to develop measures that will bring real insight to our members in their diversity and inclusion work, presented in a clear and meaningful way. By working together, we at UHR could help JISC to understand the questions that HEIs are trying to answer, the benchmarking that would help them do this, and the visualisations which would be most impactful.
The Discover diversity interactive dashboards have been designed to save precious time in analysing sector diversity data, whilst also providing valuable benchmarking across UK HE – things which our members have told us are their priorities. The dashboards build on the analytics functions already available in Heidi Plus and allow users to quickly provide metrics, analysis and trends in a format that can be easily dropped into reports and presentations – allowing users more time to draw conclusions and recommendations from the data."
Sophie Crouchman, Strategic Projects & Research Manager, UHR
Subscribe to Discover diversity
Please complete this form to register your interest for Discover diversity and one of Jisc's team will be in touch. You can also let the team know how you found out about the dashboards by selecting 'UHR Blog' from the "how did you hear about us" field.
Please note that Discover diversity is delivered through Jisc's Heidi Plus business intelligence platform and that Heidi Plus users will require Gold level access in order to use these dashboards.
To access Heidi Plus and to arrange for the appropriate level of access, please contact your organisation's Heidi Plus lead contact who is normally located in your Planning office. You can also email customer.success@jisc.ac.uk.
Full list of dashboards contained within Discover diversity:
Intersectionality heatmap
Staff demographic trends
Staff demographic single year
Population v benchmark group
FTE forecast against target
FTE % forecast against target
Turnover forecast against target
Pay gap forecast against target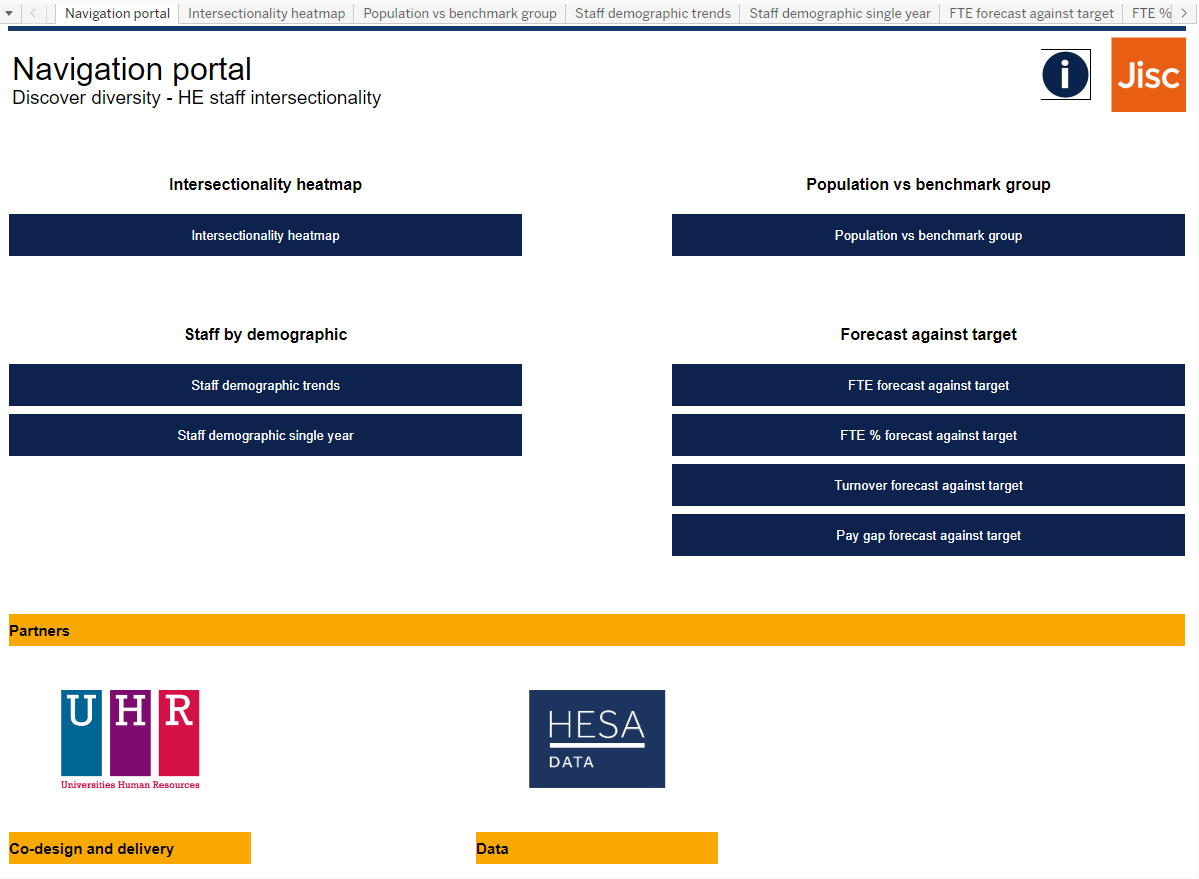 Above: A list of dashboards contained within Discover diversity along with Jisc's production partners.
Author – Matt Clarke, Content insight manager, Jisc